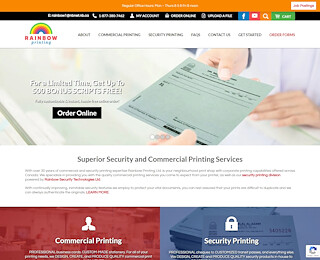 Security Printing Prince Edward Island
At its core, security printing is an aspect of the printing industry that is responsible for printing high-value documents like cheques, banknotes, stock certificates, identity cards, and passports among others. Owing to the nature of the items printed, security printing is largely concerned with the prevention of counterfeiting, forgery, and other fraudulent practices.
It can be done by certified, commercial printers who either use traditional offset printing or digital technology. So, some of the best printing companies can now help businesses protect sensitive documents like transcripts, coupons, and prescription pads by incorporating some state-of-the-art features.
Rainbow Printing Ltd. is one of the leading printing companies in Prince Edward Island and here are some of the security features that we incorporate into your documents.
The Security Features We Use
As one of the foremost local print shops around, the security features we use can be classified into:
Overt Security Features
As the name suggests, these are obvious security features that are incorporated into sensitive documents. They are obvious in the sense that you could easily be detected by the naked eyes when you look at them under normal lighting. Some examples of overt security features are security threads and watermarks.
Covert Security Features
These are security features that are designed to be hidden in the way the document is designed. Documents that have these types of security features integrated into their security printing design require magnifying glasses or fluorescent light to detect these features. The reason is that they are so well hidden that they are not easily detected by the unaided (an even untrained) eye.
Forensic Security Features
Now, these security features take covert security a step further. They are designed to be so unnoticeable that to detect them, you'd need some special equipment and possibly specialized training. Forensic security features are at the heart of security printing that is difficult to reproduce by scanners, photocopiers, and digital image capture equipment.
A Combo of Security Features
We sometimes use a blend of both overt and covert security features depending on the nature of the project. The decision to use a blend of these security features largely depends on the number and types of security features required for the project. Another factor that influences the type of security features used is the nature of the mode of verification.
Takeaway
At Rainbow Printing Ltd. our main goal is to offer competitive and exceptional printing services in Prince Edward Island and other parts of Atlantic Canada and the U.S.
Contact us for top-notch security and offset printing
Have you been searching for the best printing companies to handle your commercial and security printing needs? You can call off the search party because Rainbow Printing Ltd. is here for you. We're regarded as one of the foremost security printing companies in Saint John, and we have a long list of satisfied clients to show for it. If you're ready to join our list, call us today to receive a quote for your graphic design and commercial or security printing project.
Rainbow Printing
+1 506-433-2877
3 Jones Court
Sussex NB E4E 2S2 CA