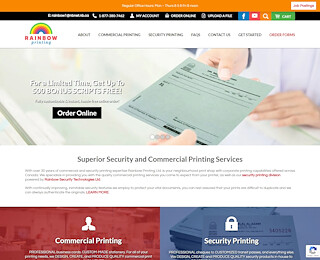 Commercial Printing Saint John
Printing has become a key tool for advertising and branding businesses today. With commercial printing in Saint John, businesses can announce themselves to customers and boost their corporate image.
Rainbow Printing Ltd is one of the best commercial printers today which can help take your business to the next level through branding.
This article deals with questions commonly asked concerning commercial printing.
Commercial printing FAQs
I need a quote. How can I get this?
You can get a quote from us from the comfort of your home. Just send a mail to us at rainbow1@nbnet.nb.ca or call any of the phone numbers on our website https://rainbowprinting.ca/contact-us/.
Give us the specific requirements of your project, and we will send you a cost estimate.
How much do your services cost?
Many clients wish to know this to get local commercial printers who can work within the customers' budget. However, there is no one-size-fits-all price for our services. We charge based on what services you require, the number of units you want produced and the quality of the materials you order for.
Whatever the size of your budget, you are sure to get a deal suitable for you in our best printing companies.
What services do your company offer?
We offer a broad range of printing services. These range from printing periodicals such as newsletters for your business to designing and producing business cards and cheques.
Our business cheques are protected by sophisticated security features against counterfeiting. Furthermore, your business can get a boost by taking advantage of our marketing prints. These include advert posters, handouts, and magazines.
When your advert materials are well printed, people are naturally drawn to it.
Where are we based?
Our operational base is in New Brunswick, Canada. However, we can ship our products to you anywhere in Canada or in the United States.
Operating hours
Our company is a designated essential service. We are open from 8:00 am to 5:00 pm from Monday to Thursday. On Fridays, however, we open by 8:00 am and close by 12:00 pm.
However, you can call us or contact us to discuss your project and have it shipped to you wherever you are located.
What type of materials do you use?
We have a wide variety of printing materials and papers available. These differ by quality and cost. You can choose which type suits your needs.
Can I get a custom job done?
Of course. You can reach out to our graphic design and printing team and give them the specifics of what you want your design to look like. You can also design it yourself and send it to us for printing.
Contact us For Top-Notch Commercial and Offset Printing
Have you been searching for the best printing companies to handle your commercial and security printing needs? You can call off the search party because Rainbow Printing Ltd. is here for you. We're regarded as one of the foremost security printing companies in Saint John, and we have a long list of satisfied clients to show for it. If you're ready to join our list, call us today to receive a quote for your graphic design and commercial or security printing project.
Rainbow Printing
+1 506-433-2877
3 Jones Court
Sussex NB E4E 2S2 CA