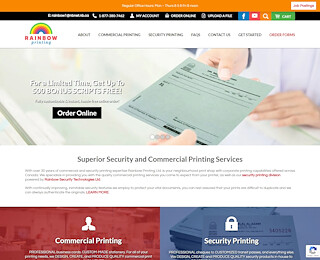 Are you looking for a reputable printing company in Moncton? For over 30 years, Rainbow Printing has been one of the few graphic design and printing companies in Moncton that has provided excellent customer service at reasonable prices. Every day, Rainbow Printing is committed to providing the best quality printing services and a top-quality customer service experience.
We have proudly provided residents and business owners with a full range of offset and digital printing, graphic design, and copying services for several years. With a wealth of experience, a commitment to quality, and a wide range of print resources and commercial printing Moncton, we'd love to assist you with your next project.
Who We Are
Rainbow Printing was founded over 30 years ago in response to the need for local commercial printers capable of managing the full range of printing services that businesses today require. Our extensive knowledge of gravure, coldset, sheet-fed offset, and heatset printing is a valuable asset that allows us to carefully match each project brief to the most cost-effective and appropriate printing solution available.
With our extensive experience in all important aspects of print production, we are able to offer our clients solutions that ensure the highest print work possible. Because we have a nationwide presence, we can provide print management solutions to businesses large and small across Canada, assisting them in saving money and improving efficiency.
What We Offer
Do you need something printed? Give us a call, and we'll produce what you require using the best technology and printing suppliers in the country. We can even go so far as to get it directly to the people who need to see it. From short-run digital newspapers to high-volume print, glossy brochures, to books and leaflets, we have the expertise and printing solutions you require. We can fulfill any print project as a leading print shop for businesses with multiple suppliers, solutions, and processes at our disposal.
Why Choose Us
We've taken advantage of every opportunity to hone our craft and streamline internal processes, always looking for modern and more efficient ways to provide the best results for our customers. When your business is ready to go, so are we. Our experienced, hardworking, and dedicated team will help you meet or exceed your expectations and deadlines. Our customer care representatives are available by email or phone to help you in managing your project from start to finish.
We have a graphic design team that is skilled, experienced, and knowledgeable in dealing with art challenges. They go to great lengths to catch errors and ensure that your print designs are accurate, effective, and appealing to your target audience.
Are you ready to see why our customers regard us as of the best commercial printers in Moncton? Or do you need some advice on your project involving commercial printing Moncton? Contact us today. We've handled thousands of print projects over the last three decades and will provide you with all of the best options for your project.
Rainbow Printing
+1 506-433-2877
3 Jones Court
Sussex NB E4E 2S2 CA