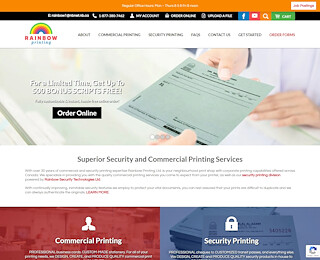 Commercial Printing Prince Edward Island
In the modern business world, branding is, no doubt, one of the key factors that determine the level of success which an organization attains. Branding boosts business visibility and aids advert/ public relations campaigns.
Printing is a great way to sell a brand. Customers are naturally attracted to recognizable logos and business names on goods.
It is no surprise, then, that more and more companies and groups are opting for the use of graphic design and printing for corporate branding.
However, it is essential to go for the best printing companies when looking to get your items branded.
Rainbow Printing Ltd, a commercial printing in Prince Edward Island, specializes in the printing of a wide variety of high-quality commercial products. Here are some of the services we offer.
Prescription pads
Prescription pads are meant to contain drug prescriptions from qualified medical experts.
Sadly, however, prescription fraud or the practice of tampering with prescription pads or forging drug prescriptions on them is quite rampant. This poses a grave health risk to the society.
To help fight against this practice, we produce medical prescription pads which are specifically made to be fraud-proof.
Our pads contain advanced protection features which are next to impossible for fraudsters to crack.
Business cheques
Cheques are a common target for forgers. Without the right security measures in place, you run the risk of suffering massive financial losses to cheque fraud.
Protect your business finances today by going for our ultramodern security-enhanced cheques.
Our business cheques are made by experts who understand how cheque fraudsters work. All the loopholes usually exploited by forgers are blocked in our cheques.
Our customers can choose between our manual cheques which is great for paying your staff and the laser cheques.
You can pick from our wide range of design templates or send us yours for printing. We can also help you create custom designs.
Business cards
Business cards can introduce you and your business to people without even having to say a word. Customers can form their opinions of your business from your business cards.
Give people the best first impression of your business by getting your cards done by the best commercial printers available.
Our company is the best print shop for businesses, guaranteed to give you the best quality service.
Business stationery
Your company's image stands to get a considerable lift from branding. We are the best local commercial printers to help you print your logos and name on your office items such as envelopes, calendars, letterheads, and the like.
Periodicals
Our commercial printing in Prince Edward Island can print you items such company newsletters and journals.
Contact us For Top-Notch Security and Offset Printing
Have you been searching for the best printing companies to handle your commercial and security printing needs? You can call off the search party because Rainbow Printing Ltd. is here for you. We're regarded as one of the foremost security printing companies in Saint John, and we have a long list of satisfied clients to show for it. If you're ready to join our list, call us today to receive a quote for your graphic design and commercial or security printing project.