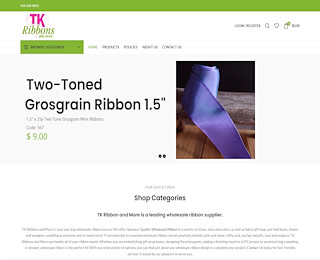 The crafts allow you to create beautiful things from simple materials. It is also an excellent way to entertain yourself. Also, if you have children, this practice can become a pleasant and fun family activity.
There are many materials with which you can work on your projects. One of the most versatile is the satin ribbon. This thin band of fabric is not only useful for wrapping and binding your gifts. With it, you can make many beautiful creations. You can also incorporate them into clothing.
What's So Special About Being Silk?
Unlike other ribbons, this is a wonderful and lustrous fabric. It comes in a variety of lovely designs. You can find them double-sided, with borders or stamped. It also has the advantage that it is printable. You can buy a ribbon printer like the one we have in our online TK Ribbons and More store and make your designs. It is essential that you know some of the many uses that this material has so that you unleash your creativity.
The Ribbon in the Making
When you make a sewing piece, you can use the ribbon in two main ways. First, you can reinforce the edges of your creations with it, such as the waist of a skirt, the neck of a blouse, or also its sleeves.
The other way you have to use it on your clothes is by stitching it to the fabric, creating embellishments. You can create vertical patterns or with the design that you prefer.
Fabric Crafts
Not only with your clothes can you take advantage of the satin ribbon. You can also use it in other fabric crafts to reinforce its edges. For example, if you make a diaper changer for your baby or a bath towel, you can create a cute side that protects the piece from use. The versatility of this ribbon is that it bends easily, and allows you a clean and straightforward seam. You can also get creative with other pieces of fabric, such as a cosmetic case, or a kitchen mitt.
Other Creations
However, this ribbon can shine on its own. One of the most common uses of this material is to create bonds. These can be in many forms. Also, you can combine several ribbons in your loops.
Another fairly common craft of the satin ribbon is the creation of flowers. The best thing is that they are extremely simple to elaborate, because in general, it is only about folding, rolling and cutting. These beautiful flowers can be used to create hair ornaments or to decorate any piece of clothing you are making. Isn't it a wonderful material?
Find your Ribbons with the Best!
TK Ribbons and More is the best online ribbon provider ever. With us, you can find a wide variety of models and colors so that you can create all your beautiful crafts. We have the best prices online, and we provide only high-quality products. Register in our online store, and enjoy our quality ribbons at value pricing. If you want to contact us, we will be happy to assist you.